To no one's surprise, the word AI was used more than 100 times during Google's most important yearly I/O conference a few weeks ago. The buzzword attracts attention from all around, and corporate folks know this perfectly well. But what exactly was presented during the much-anticipated conference?
Well, if you are a writer, blog owner, or website content creator, you need to prepare for big changes. 2023 has been a wild year so far, and it's not over yet. On May 10th, Google announced a lot of new AI-powered features that will transform the Search experience.
Some of these updates are great for end-users but seem to not be beneficial for the creators. In fact, some experts argue that SEO may die after all the changes are implemented. But is the situation really that bad?
That's the question we will try to answer in this post.
Search Generative Experience (SGE)
SGE is a new technology announced during the I/O conference that is built on the latest advancements in generative AI.
Let's look at some examples, directly from the I/O conference.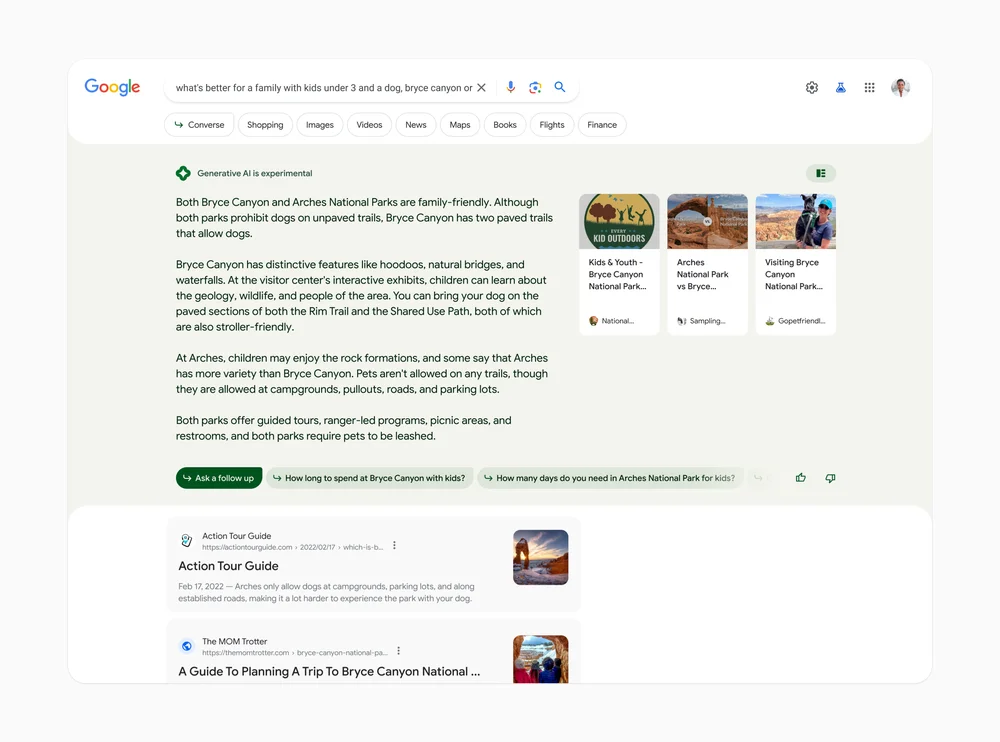 At the top right corner, there is a green button that can be used to hide the AI-generated answer and only display traditional website results. During the presentation, Google emphasized that people still prefer content created by humans over content created by AI. This is particularly true for reviews and recommendations. After all, you wouldn't ask an AI which laptop has a more comfortable keyboard, would you?
And Google knows it very well: At present, AI cannot produce content that accurately replicates human emotions or experiences because it doesn't comprehend the world in the same (or even similar) way humans do. AI is merely a machine that accesses huge sets of data. Nevertheless, if AI acquires the capability to interpret data, it could pose serious implications for website owners. However, supposing AI were to develop sentience, we would have far greater concerns to contend with than just the impact on online businesses.
But the outlook is not as green for everybody. These are the next things Google presented:
Now, reviews are under hit.
AI deducts important qualities for a e-bike, finds these stats for different products, and generates a list of the best ones. While experience cannot be evaluated by AI (how comfortable is the saddle for a 6 feet tall person for example), it presents enough data to make a choice. Moreover, with Google's project Magi (https://searchexplained.com/ai-race-google-is-reported-to-revamp-search-completely/), you would be able to checkout right through this results page.
As the result, businesses that are built on affiliate links and reviews will be hit hardly. AI uses the data from such reviews yet does not direct user to the website. Even though many would still visit the top 3 websites shown on the right, the amount of such people would surely drop by at least a few percent (or more), and in the long-run, AI will be able to produce even greater results, completely excluding the need to check the original review for the end-user.
Conversation mode
Google is staying up to date with the race with Bing, adding a chatbot experience to the search engine as well. Want best e-bikes for hilly commute? Here you go. Oh, only want the ones in red color? Here you go again.
Moreover, this conversation mode goes the same way as beloved ChatGPT. You can ask practically any question, and Google will give you the detailed answer.
Once again, all the relevant links are beneath the generated answer. However, one big difference to Bing, is that there are no in-text references to these facts. AI does not know anything, so everything it produces is based on someone else's content. Microsoft addressed the issue pretty well, leaving VERY comprehensive in-text references to where the info is taken from.
Outlook
I tried to maintain a neutral tone throughout the post. Many are excited, yet more people are fearful of this. There are millions, whose whole career was built on the SEO, as well as thousands successful businesses using affiliate links, or niche-websites. This new tech is certainly not a regular change to the algorithm game, it will alter the whole SEO for certain. However, there are some facts to be remembered:
AI needs to take info from somewhere. If every writer on the web would become discouraged from writing, since their results will be much lower, where would AI take info from? Google would try to maintain good relationships with many writers in some way or other.
A lot of Google's revenue comes from ads on websites (About 33 billion per year, according to Oberlo, https://www.oberlo.com/statistics/how-does-google-make-money ).
Majority of revenue comes from Search ads, so maintaining a big userbase is crucial from Google. Moreover, if there would be no writers to produce relevant results for every micro-niche topic, there would be nothing to feed into AI, which ultimately would lead to smaller user satisfaction and lower userbase.
Ultimately, some way of encouragement for all-level authors, from top tabloids to small niche fishing websites, would be maintained at a certain level. SEO would still bring some money to the table, however, straight after the roll-out of these updates, all website owners can expect up to half of the visitors overnight. We don't expect SEO die immediately, but perhaps a in a very slow way, over a period of many years, giving all of us some time to adapt to the new game.
Resources and references
https://www.wired.com/story/google-io-2023-everything-announced/
https://blog.google/products/search/generative-ai-search/
https://www.oberlo.com/statistics/how-does-google-make-money